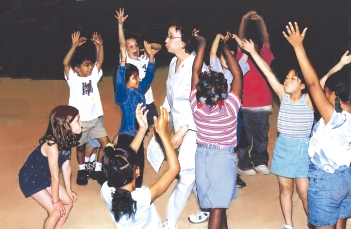 Okay, well, I don't know if you can tell, but this is not my classroom and these are not my kids and this is not me. I snatched this picture from Google Images because it was the closest I could find to what my classroom looked like today. I pulled my lesson from what I have gleaned over the years from the
American Orff-Schulwerk Association
. If you don't know much or anything at all about the Orff movement, check out this site and you may get a better understanding. I posted this picture because it resembled what my classroom looked like today, and with 30 some kids moving around my room, I didn't have the foresight to grab my phone and take pictures this time. I got a bee in my bonnet today to talk about Locomotor and Non-Locomotor movement with Primary today and it went GREAT! Here is what I did.
I got specific information about movement from the
this PDF file
.
First, I had the kids sit criss-cross applesauce scattered around my room and I told them how Locomotor movement meant moving from place to place and Non-Locomotor meant staying in one place. I showed them this quick slide I put together on Promethean Planet*:
Thanks to the nature of the Promethean board, we were able to slide the different movements under the correct category. (We stayed unsure where to put hop and jump, since you can do both without travelling.) Once both lists were complete, I had the kids listen to "The Skater's Waltz" from the curriculum. For the "A" section, we did Non-Locomotor movements. For the "B" section, we did Locomotor movements.
Afterwards, I had the kids sit back down and share with the class what Non-Locomotor movements they used and then asked them what Locomotor movements they used. Those kids love to share! Then we each got a bean bag and did
"The Bean Bag Boogie" song from Greg and Steve
. They have done this song before, but this time, we decided to do Non-Locomotor movement during the verses and Locomotor movement during the refrain.
Next week, we will try the wolf activity suggested in the a fore mentioned
PDF file
. It looks too fun.
*If you would like me to email this Active Inspire file to you, let me know in the comments section.